July 23, 2009
Author: Trouts Staff
With the end of July rapidly approaching, it's hard to believe that we are already half way through this summer; where does the time go. Things have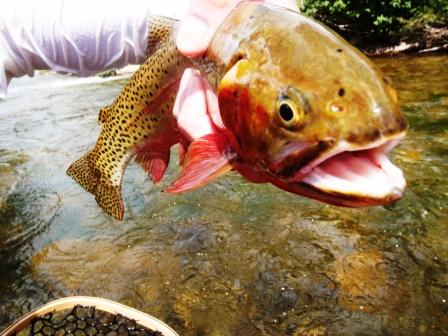 been cranking here in the shop, and if the number of customers through our door is any indication of the quality of the fishing right now, then I'd assume things are ON FIRE right now.
River levels have dropped dramatically over the past couple of weeks, and we're starting to see some more normal and familiar flows across the state. The good news here is that the water is starting to warm up, and the insect activity is really starting to pick up. PMD's, Caddis, and small Stoneflies are the food de jour for most trout streams, although the Drakes are starting to appear on the Roaring Fork, Frying Pan, and Eagle just to name a few. Dont' forget to be properly stocked with a good assortment of terrestrial patters (cricket, grass hopper, beatles, etc.), as August and September are the prime time to throw the big stuff. Being in the middle of the fishing season also means that anglers need to be aware of the time of day that they are fishing. We've all heard the old adage "the early bird gets the worm", and that is never more true then right now. Prime fishing times are from sun-up to around 11am, and then from 3pm to dusk. You can pretty much count on the fishing being a bit slow during the middle of the day.
Don't forget about our Weekly Happy Hour (see below), as this is a great time to come by the shop, hang out with the guys (or gals), and enjoy a frosty adult beverage. Have a great weekend.
Tight Lines,
Tucker
Posted in
Essays
|
0 Comments